Retaining Wall Blocks & Designs in Livonia, MI
From preliminary designs to installing every block, we provide the hardscaping services you need to enhance your home.
If you're worried about losing grass and soil to the elements, your yard can likely benefit from a retaining wall. Designed to keep soil in place, people often build a retaining wall if they live on a slope or as a way to create a raised garden bed. They can also act as a flowering physical barrier, providing privacy and noise reduction with the help of stone, soil, and plants—which can be especially handy if you live near a road.
Retaining walls can be created in many different shapes, sizes, colors, styles, and materials to perfectly match the rest of your home or yard. So whether you're sectioning off your front yard to create a peaceful, green seating area or constructing a vegetable garden retaining wall, this hardscape feature can add elegance and dimension to your outdoor space.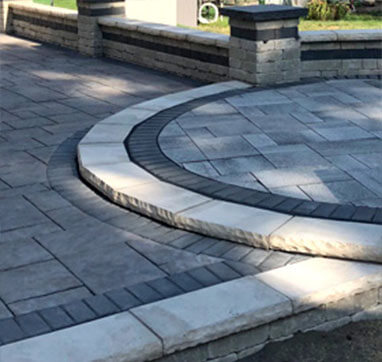 Start Planning Your Project
---
Get in touch with our team to explore the custom material options and design ideas our hardscaping contractors have to offer. Whether you're creating safety features, improving privacy, or adding aesthetic value to your home, we're here to help.
(313) 570-4346
Explore Retaining Wall Ideas & Design Options
---
A retaining wall project is a fantastic way to create more usable space in your yard. Whether you're dreaming of a vertical garden or you simply love the look of natural stone retaining walls, we offer innovative hardscaping design options to make your project a reality. As retaining wall contractors, our team is experienced in helping clients create custom landscapes to suit their lifestyles and improve the value of their properties. We're proud of each stone laid to create beautiful raised garden beds and every timber retaining wall we've laid. See our gallery for more inspiration!