Expert Paver Patio & Walkway Installation in Livonia, MI
From pathway design to materials selection to home installation, M & D creates beautiful walkways and patios.
Get more out of your yard with the right paver walkway or patio! A lawn is a beautiful feature to look at, but paver stones elevate it to a more elegant and accessible space. Staying cooped up inside all day is a recipe for unhappiness, but so are dingy outdoor seating spaces and cracked sidewalks. Find a solution to both problems with expert patio design and paver walkway ideas from M & D.
A patio is a perfect way to extend your outdoor living space so you can enjoy the fresh air without leaving home, and a paved walkway will ensure you get from point A to point B without a hitch. Welcoming guests is all about having an inviting home, and that starts with the pathway to your door—maybe even leading up to a stone seating area. The right patio and walkway combination will also protect your lawn from unsightly damage and patchy spots from wear and tear. Whatever goals you have for your front and back yard, M & D has paver patio designs and stone walkway options to suit your needs.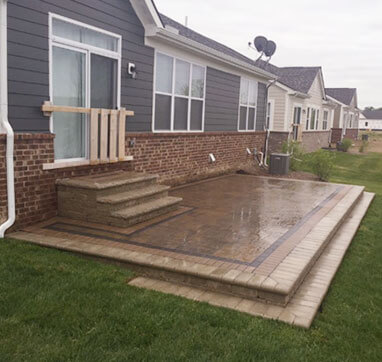 Get in Touch Today
---
Bring your outdoor living space to life by contacting our team. We're dedicated to making lawns more liveable, safer, and more accessible for everyday activities. Explore custom ways to improve your outdoor space with the expert help of the M & D team.
(313) 570-4346
Explore Paver Patio Ideas & Walkway Ideas
---
Don't let your yard sit empty and unused—create a custom outdoor space with M & D Outdoor Design & Build. Picture a lovely flagstone walkway leading up to your front door, or an intricately patterned terrace laid as a foundation for your outdoor kitchen. Whether you want a front patio to enjoy a morning coffee as you wave hello to neighbors, or you'd prefer a backyard patio to appreciate nature in quiet privacy, we have the designs and materials you need. Contact us today to explore options that include solar walkway lights and more.