Create Beautiful Hardscaping in Livonia, MI
Increase curb appeal and live a more comfortable life with expert hardscaping services from M & D.
From paver stone walkways to elegant retaining walls, your home is more functional and beautiful with well-crafted hardscaping features. Our team provides custom-designed outdoor living spaces suited to your best lifestyle and tailor fitted to your home.
Redesign your driveway to make your home safer and more beautiful, or create your dream grilling station to live out your 5-star chef fantasies. Front and backyard patios provide a true welcome for guests and more space for your family to spread out and enjoy the fresh air. Stone fire pits timber retaining walls are even lovelier and more peaceful when accented by a water feature. Start enhancing your home and yard to enjoy it at its full potential!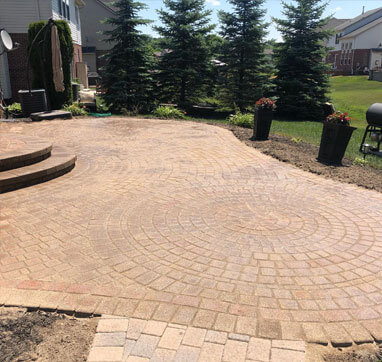 Request Your Service Today
---
Whether you need residential landscaping design or commercial snow removal services, the M & D team is here to help with expertise and dedication to excellence.
(313) 570-4346
Hardscape Ideas & Innovative Design Options
---
We're here to help you create your custom backyard with ease! Working with our trained team of professionals means you have access to the right materials and knowledge to bring your ideal outdoor space to life. Whether you need a new, safer stone walkway, or you're looking forward to the excitement and versatility of an outdoor kitchen, our team of landscape architects and hardscape contractors provide innovation and construction expertise. See our gallery for more hardscape design inspiration!