Livonia, MI's Source for Driveway Pavers & More
From paver stones to asphalt, we create beautifully designed driveways that suit your home.
Improve the curb appeal of your home instantly with a new and improved driveway. Guests and loved ones alike will appreciate the beauty and comfort of smooth pavement, intricately laid stones, or even the satisfying crunch of gravel. The right driveway makes coming home easy, whether you're ready to relax at the end of the day, or trying to keep a little one from waking up.
At M & D, we're proud to provide clients with driveways made of high-integrity materials that will last for years to come. We know a driveway is just as much a part of your home as any room under your roof. A better driveway is safer for your family and visitors, preventing them from tripping on unsightly cracks or having to walk around any stray holes so they don't twist an ankle. Your car will also be grateful for having a better spot to rest between trips—it's important to ensure you have the right type of driveway for your weight and class of vehicle (including campers, boats, and RVs). Get in touch to learn more and explore options for your project.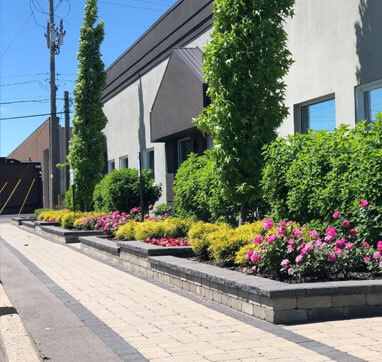 Start Your Driveway Project
---
Whether you know what you want or you need design ideas, the M & D team is here to make your home more comfortable and beautiful in ways that suit your needs. Contact our team today to bring your driveway plans to life.
(313) 570-4346
From Gravel Driveways to Driveway Lights, We Have the Ideas You Need
---
Our team of professional driveway installers is highly experienced at providing the right hardscaping services for every project. We're here to help you explore design options to bring your driveway ideas to life. Whether you're trying to accommodate multiple vehicles, incorporate a play space for your kids, or leave space for future projects, we're happy to create the right plan to suit your needs. Discover driveway options that suit your lifestyle—get in touch with the M & D team today.