Reliable Commercial Snow Removal in Livonia, MI
Be prepared for the winter months when your business will need trustworthy snow plowing services to keep running.
Don't let a good old fashioned Michigan winter get you down—keep your parking lot clear with professional snow removal services from M & D. Customers and employees need a safe way to get to your office park or storefront, even when unpredictable weather strikes and our services will provide exactly that.
At M & D Outdoor Design & Build, we will help you weather any storm that Michigan can throw at your business. Our reliable crew of snow removal drivers will provide dependable snow and ice removal services to keep your commercial properties clean and clear. We offer affordable rates and efficient service, no matter the size of your property. Our fleets include salt trucks, snow plows, tractors, and more to handle any job so your business day can run smoothly.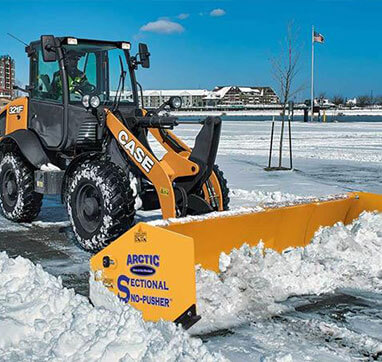 Contact Us Today
---
Don't wait to make your plans for professional snow removal. Put your worries aside and prepare for winter by contacting the snow and ice removal professionals at M & D. You'll rest easier knowing your business is in good hands.
(313) 570-4346
We Offer 24-Hour Snow Removal Service
---
Site conditions at your commercial property are an indicator of how the work day will go. A parking lot covered in winter weather is both a slip-and-fall hazard and a signal to customers that you're closed or unprepared for business. Commercial snow and ice removal needs to happen as soon as possible to reduce liability for staff and visitors, and to make pathways ready for your clientele. Our snow removal equipment ensures fast, thorough work to help you get open for business sooner and stay open for your full work day.